Fire Safety & Readiness Quiz
10/29/2019 (Permalink)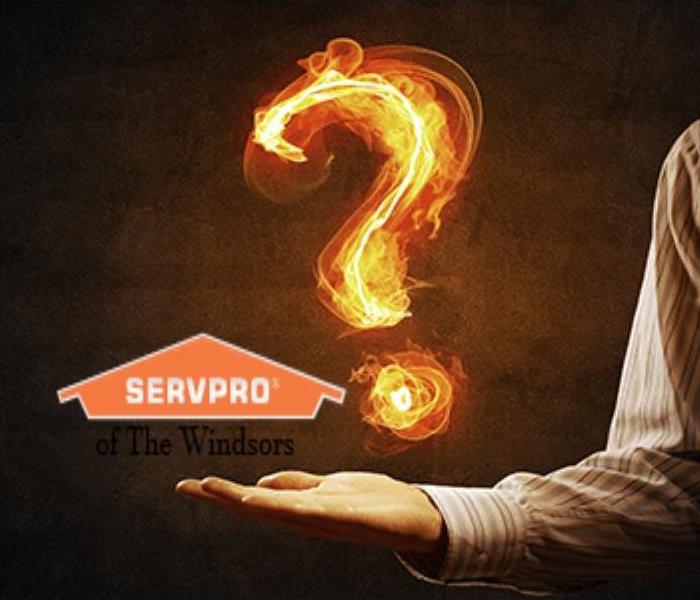 Let SERVPRO of The Windsors be your go to remediation company, we make things "Like it never even happened".
Are you prepared for a fire? Do you have a basic understanding of how to avoid house fires and what to do in the case you or your loved ones befall such a tragedy? Ask yourself these few questions to see if you are prepared and get a better understanding of what you need to do to prepare yourselves better. (You can find the correct answers at the end…. Don't Cheat!)
1. What is one of the leading causes of house fires?
A. Children
B. Arson
C. Smoking
2. About how many people die per year from house fires in the US?
3. Put the steps in the correct order for how to properly put out a fire with a fire extinguisher
A. Leave immediately if you're unable to extinguish the fire
B. Sweep hose from side to side
C. Squeeze the lever
D. Pull the pin
E. Replace or recharge your fire extinguisher as soon as possible
F. Back away and repeat if the flames flare-up
G. Aim the hose at the base of the fire
4. Approximately how much does the US spend on fire damage annually?
A. 1 Billion
B. $800,000
C. $6.7 million
5. What do you do in the event that an article of clothing on your person catches fire?
A. Stop, Drop, & Roll
B. Find water & try to put yourself out
C. Do the hokey pokey
6. What do you do after a fire has occurred and the dust has settled?
A. Take a nap
B. Call SERVPRO of The Windsors to assist with cleaning & repairs
C. Clean up yourself
As always, we hope you have found this information helpful and inspiration to prepare yourself if you're interested in learning more about fires how they are started and how to be prepared check out the rest of our series on fire safety and readiness. Remember having an emergency plan is one of the best ways to keep yourself and your loved ones safe!
Answer Key:
C
A
D, G, C, B, F, A, E
C
A
B