Fire Prevention!
9/22/2016 (Permalink)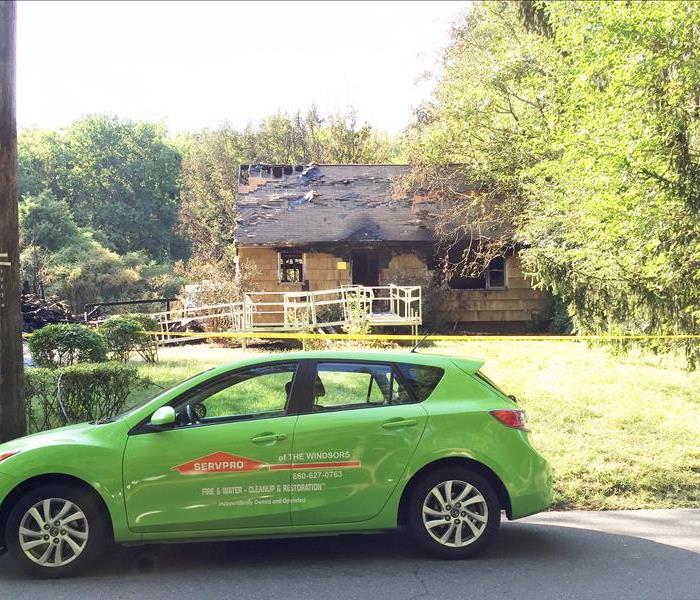 This picture shows an actual house fire in Windsor, CT. that SERVPRO of The Windsors is helping the homeowner with.
SERVPRO is a proud partner with the American Red Cross. The American Red Cross is a great program that continuously responds to disasters and emergencies. This October we continue our partnership to help families prevent, prepare for, and recover from disasters. The "Red Cross and the community partners have already saved at least 111 lives, and have made at-risk communities from coast-to-coast stronger and safer by installing more than 473,000 smoke alarms, replacing more than 32,000 batteries and creating nearly 170,000 escape plans."
When thinking about fire safety there are some alarming statistics. Did you know that home fires are actually the majority of the disasters that occur? On average, 36 people suffer injuries as a result of home fires every day. Over $7 billion in property damage occurs every year due to home fires. 52% of parents with children ages 3-17 have not talked to their families about fire safety and
Fire prevention week is October 9th-15th this year, this is a great time to inspect your home and prepare you family for a potential fire. Here are the three things you can do to protect your family:
Check your smoke alarms regularly
Practice fire drills at home
Route an escape plan
While we hope for the best, we have to prepare for the worst. While we want all the member of our community to be safe, should disaster strike we are #heretohelp!